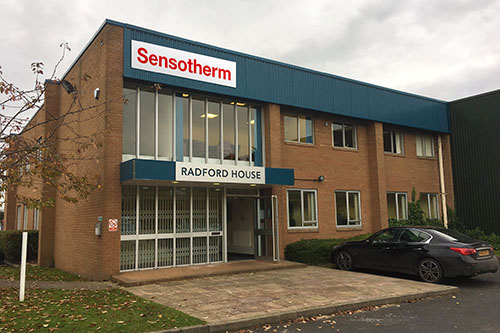 Sensotherm Head Office, Telford, Shropshire.
Company Profile
Sensotherm was established in 1982 to be a major supplier of Specialist Designer and Low Surface Temperature Radiators.
Sensotherm is a specialist supplier of central heating radiators and valves to all sectors of the commercial heating market.
Established for over 30 years, the Sensotherm range has grown to encompass all types of radiators from our core LST and Steel Panel radiator ranges to designer Tubular Steel radiators and Towel Rails.
At Sensotherm, we ensure that once you have dealt with us you will come back again. Our experienced sales force backed by our technical sales team at our Head Office in Telford ensure that whether you wish to specify Sensotherm products or install them, assistance is with you at all project stages. See how dealing with Sensotherm can benefit your business.
The company headquarters is in Telford, Shopshire, housed in a purpose-built detached building designed and owned by Sensotherm. Sensotherm is owned and controlled by three directors:
Michael Letby
Valerie Letby (Company Secretary)
 
Accounts Manager: Robert Vaughan
Technical Manager: Ian Law